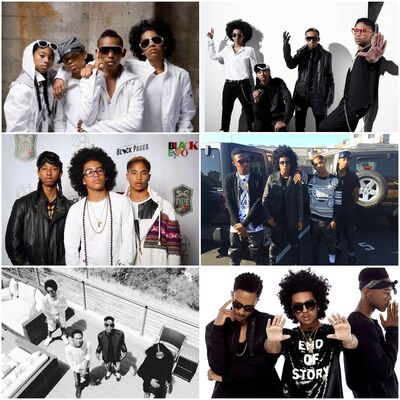 Mindless Behavior
(or simply known as "
MB
") was a American boy band, best known for the singles, "My Girl" and "Mrs. Right". The band was put together in 2008 and then disbanded in 2017, by Walter Millshap III, Vincent Herbert, and Keisha Gamble. The group was signed to Interscope Records, Streamline, Sony/Epic, and Conjuction Entertainment.
Biography
Edit
2008-2013
Edit
The band was put together in 2008 by Conjuction Entertainment, CEO Walter Millshap III and his longtime friend/partner, Keisha Gamble. They auditioned many kids but chose Jacob Perez (later to become known as "Princeton"), Chrestano August (later to become known as "Roc Royal"), Rayan Lopez (who later to become known as "Ray Ray"), and Craig Crippen, Jr (later to become known as "Prodigy").  The boys then began to be trained in dance and singing for two years before releasing a recording. The first single they ever released was "My Girl" and then they performed it on their television debut on The Today Show, and they soon toured as opening acts with The Backstreet Boys, Justin Bieber, Jason Derulo, and Janet Jackson. The band also headlined tours such as the SCREAM Tour with Diggy Simmons and BET's first, Closer to My Dreams Tour. The band then released their debut studio album, #1 Girl and embarked on their first headlining tour, The " #1 Girl Tour". In 2013, the band released their second studio album, All Around the World on March 12, 2013 and premiered their feature film documentary, Mindless Behavior: All Around the World on March 15, 2013. The group then embarked on the "All Around the World Tour" which featured guests such as Coco Jones and OMG Girlz. After the AATW Tour ended, it was announced by his mother on Instagram that "Prodigy" had left the group in November 2013.
2014-2015
Edit
After the departure of former lead singer Prodigy, who left to pursue a solo career. Princeton, Ray Ray, and Roc Royal continued to do small performances together but released no new music until Prodigy was replaced by new member/lead singer, Elijah Johnson (who later became known as "EJ") as he was announced as the new lead singer on April 4, 2014 as apart of the "Mindless Makeover". The group then consisted of the three original members, Princeton, Roc Royal, Ray Ray, and  EJ as they started working on their third studio album and had their first concert appearance with EJ on May 31, 2014 with their debut single with EJ "My Baby" from their upcoming third album. Following the hiatus, the group was also dropped from Interscope's roster and was soonbsigned to Sony/Epic. Then in December 2014, Ex-lead singer, Prodigy returned to the group as member Roc Royal was fired from the group for his troubling behavior. As of then, the band consisted of Princeton, Prodigy, Ray Ray, and their new member, EJ. In June 2015, as it turned out ex lead-singer Prodigy was replacing Roc Royal's place for a while as the band soon recruited a new member by the name of Michael River (who is simply just known as "Mike"). The band then consisted of their two original members, Princeton and Ray Ray with their two new members, EJ and Mike and they also announced the name of their third studio album "Recharge" and released snippets of songs from the album. In September 2015, original member Ray Ray exited the group to go pursue a solo career, leaving the group consisting of the only remaining original member Princeton with the new band members, EJ and Mike.
2016-2017
Edit
After taking a long hiatus to finish their third album, the group continued on as a trio without a fourth member as they finished their long-awaited third studio album, #officialMBmusic which was released on June 24, 2016 (EJ's 18th birthday), and they released their first single from the album titled "#SongCry" which was released on their SoundCloud since their new Instagram account reached 15,000 followers. Then on April 15, 2016, they released their first music video in over 3 years since their last video with the original band members, "Used to Be", for their second single off the third album, #IWantDat on their VEVO channel. On June 17, 2016, they released the music video for their third single, #OverNightBag. They announced that they were going on a tour their third album "No Parents Allowed Tour" but was cancelled soon after for unexplained reasons and are getting ready to release a independent movie titled "Misguided Behavior". In February 2017, rumors started spreading around that the group had disbanded after Princeton announced it after asking a fan question as he claimed that the group wasn't getting the rights to their music and the members decided that they wanted to do solo careers.
Past members
Edit
The group had a total of six line-ups.
Line-up 1 (Original Line-up): Princeton, Prodigy, Ray Ray and Roc Royal (2008-2013)
Line-up 2: Princeton, Ray Ray and Roc Royal (2013-2014)
Line-up 3: EJ, Princeton, Ray Ray and Roc Royal (2014)
Line-up 4: EJ, Princeton, Prodigy and Ray Ray (2014-2015)
Line-up 5: EJ, Mike, Princeton and Ray Ray (2015)
Line-up 6 (Final Line-up): EJ, Mike and Princeton (2015-2017)
Discography
Edit
Studio Albums
Edit
Filmography
Edit
Bad Behavior (should've been released)
Misguided Behavior (soon to be released)